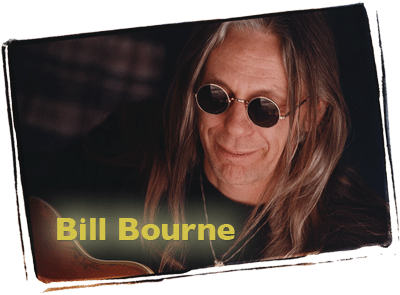 Music is a dance: a happy heart.
Music is the great teacher.
The life in music is its power
of transcendence: Music is a healing
force that benefits all living things.
— Bill Bourne

Bill Bourne is one of the few musicians destined to become a legend from the beginning. He was born into a family with ancient poetical roots in Red Deer, Canada. The icelandic poet Stephan G. Stephansson was his great-grandfather. He left school and home at 16 to become a (hopefully) famous musician. His plan has worked out. For many years now he is an integral part of the Canadian Folk- and Roots-Scene.

The tradional image of a spiritual seeker does not bring along top hats, boots, shades, and for sure not a 68 Lincoln Continental, let alone an always present Gibson flat-top. But like any other living tradition it is subject to changes. The variety of Bill Bourne's music today goes from Blues, african rhytmns, Gospel, Cajun, classic Singer/Songwriter to world music. He is a gifted and talented musician, a social activist and also an eight-times Juno Awards nominee (the Canadian pendant of the US American Grammy).

The records and live performances of this one man tour-de-force are critically acclaimed in the western hemisphere. In Canada Bill Bourne is considered a national treasure, a timeless Blues musician and a virtous Folk musician. Most probably this is all true, but more important is that his songs are damned great piece of art and a wonderful example for what Bill Bourne stands – dedicated lyrics, awesome melodies and a deep spirituality.